Home | Exhibits | About Us | Links | Contact Us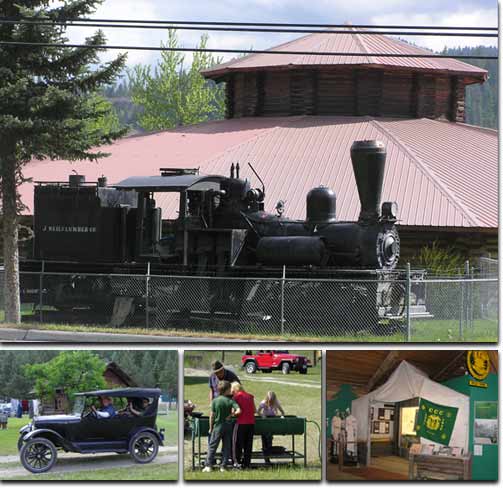 Home | Exhibits | About Us | Links | Contact Us
Welcome to the
Heritage Museum

in Libby, Montana
2014 Season:
May 31 to September 2014
2014 EVENTS:
July 20 - Libby Historical Pioneer Society meeting at 1 pm. There will be a free community potluck with hamburgers and hotdogs provided. Everyone welcome. For more information call 406-293-8504.
July 21 - The Heritage Museum will host an introduction to the New Old Time Chautauqua Monday, July 21st at 4:00 p.m. There is an exhibit at the Museum on general Chautauqua events and those that took place here in Libby.
Through July: Kootenai Valley Quilt Guild Quilt Show in the Museum Tower Gallery.
August: Photography Exhibit in the Museum Tower Gallery. Some photos will be for sale.
November 7 & 8: Holiday Bazaar Friday from 5-8 and Saturday from 10-4.

OPEN:
Monday-Saturday 10-5 and Sunday 1-5
May 31 to September 2014
Admission by Donation